Seeing that SERNAGEOMIN recently has included the Reclus volcano into group III of the assessment of their volcanoes, according to hazards they may pose to the population, I had another go at finding out more about it.
I had already got interested in this volcano a good few years ago, but, search as I might, couldn't find much of any recent reliable information. This has changed a bit – some research seems to have been done lately for southern Patagonia, but I still can find no work particularly aimed at this volcano.
The Reclus volcano lies 25 kilometers from the famous Torres del Paine National Park and about 125 km NE of the town of Puerto Natales. It is part of the Parque Nacional Bernardo O'Higgins in the Región de Magallanes y la Antártica Chilena in Chile. It also sits at the SW edge of the large Southern Patagonian Ice Field, the world's second largest contiguous extrapolar ice field.
THE AUSTRAL VOLCANIC ZONE (AVZ)
This "tail" of the Andean Volcanic Chain, the Austral Volcanic Zone (AVZ), is its southernmost volcanically active segment. The AVZ was first identified as an independent segment of Andean volcanoes in 1976.
Four* stratovolcanoes and a small complex of Holocene domes and flows on Cook Island make up this part of the Andes. Cook Island volcano, the southernmost in the Andean chain, was not even discovered until 1978.
Right: Map of southern S. America w/ volcanoes. Top to bottom: SSVZ = southern Southern Volcanic Zone; NAVZ = northern Austral Volcanic Zone; AVZ = Austral Volcanic Zone.
Volcanism in the AVZ results from the subduction of the young (12-24 Ma) oceanic lithosphere of the Antarctic plate below South America at a velocity of 2 cm/yr. There is no Benioff zone of seismic activity associated with the slow subduction of this oceanic plate. Magmas in the AVZ are of intermediate to felsic composition. They have the geochemical characteristics of adakite, a magma which has formed by partial melting and subduction of altered basalt. Thus adakite is a slab-derived melt rather than a mantle-derived melt.
Initially it was thought that very little activity had gone on here past the last glaciation. However, as is often the case, ensuing research drew a completely different picture: regionally widespread young tephra layers have been found in southern Patagonia. They suggest that large explosive eruptions of AVZ volcanoes have indeed taken place up into the Holocene.
*The four are Lautaro, Aguilera, Reclús and Mount Burney volcanoes on the South American plate, while Cook Island, or Fueguino volcano, is located south of the Magallanes Fault Zone and therefore on the Scotia plate. Just recently, GVP have removed a fifth, the volcano Viedma, from their database. Research had revealed that Viedma's obvious "edifice" was not of volcanic origin. There just remains a pesky little question: Where did the evidence for its "1988 eruption" come from? Kilian (1990) had found in situ layers of fresh pumice, ash deposits and hot mud flows on the surface of the Viedma Glacier. Perhaps the answer is already somewhere out there; I did not do a thorough search for it.
THE VOLCANO
The Reclus is a small volcano, less than 1500 m high and shaped like a loaf of bread, 6,5 km long E-W. It has erupted mainly dacite lavas and consists of a large dacitic pyroclastic cone with a crater about 1 km in diameter. On its western end, a smaller cone greets its visitors who arrive by boat. Nothing is known about the Reclus' plumbing system, its hydrothermal system or the history of the edifice.
Apparently it produced a large (5-10 km³) explosive Plinian eruption some 13-15 ka, i.e. during the transition of the Last Glacial Maximum into the Holocene. Reclus' rhyolitic ash has been identified as far away as 1100 km to the SE in the Falkland Islands. At an estimated VEI of 6, this would have been the largest Holocene eruption known from any of the AVZ volcanic centers. One site is documented where as many as six younger tephra layers sit on top of a 3780-year-old layer of peat. Historical eruptions have been recorded in 1869, 1879 and 1908 – all very small VEI 1-2s.
DIGRESSION INTO TEPHRA CHRONOLOGY
Interestingly, one Antarctic ash layer attributed by researchers to the Oruanui supereruption from Taupo volcano at ca. 25.6 ka has an average composition closely matching that of Reclus tephra. Which only highlights the difficulty of matching tephras to their respective volcanoes. Another thing might definitely change the records for Reclus, though:
Kuwae or Reclus?
The second largest sulfate loading event in the last 2500 years has long been thought to originate from the Kuwae caldera in Vanuatu. This event would be second only to the 1259 C.E. Samalas eruption in Lombok (Indonesia) in sulfate emission, and would have had a similar (or possibly larger) impact on the climate system than the 1815 C.E. Tambora eruption. Ice core studies first suggested the occurrence of a large volcanic event around 1450 C.E. based on glacio-chemical evidence in a South Pole ice core, a large electrical conductivity spike at 1460 C.E. in East Antarctica, and a sulfate increase between 1380–1460 C.E. in a South Pole ice core.
Recent developments in methodology and instrumentation in the last decade have made it possible to detect and measure physico-chemical properties of ultra fine tephra particles (cryptotephra) in various depositional media. So, Hartman et al. tested this large 1450s enigmatic sulfate signal by investigating the geochemical composition of cryptotephra. They arrived at an eruptive event having taken place in 1458.
The investigated volcanic glass particles were geochemically very distinct from Kuwae eruptive products. After ruling out several other candidates, the scientists arrived at Volcán Reclus as a likely source. This volcano had the matching tephra signature, and also evidence of recent activity. Hartman et al. found it possible that a relatively large unknown eruption of Reclus might be responsible for this largest increase in sulfate in Antarctic ice cores in the last two millennia. Although this is not an accurate determination of the volcanic eruption source, it is a dismissal of Kuwae for this event. Whether or not the Reclus can keep its prospective entitlement will turn out with further research.
BACK ON MORE SOLID GROUND
Although, apparently the Reclus volcano has been seen in eruption in 1879 by a ship's crew, it took more than a hundred years to accurately locate it again. Apart from the use of boats and helicopters in modern times, this is not least due to its new visibility: The volume of the Amalia glacier, which grinds around the low volcano's NW side, has diminished so dramatically that it is now so much easier – for those who approach by boat from the west – to actually see the volcano.
An animation posted on Twitter shows the difference: Johanna Berg has made a GIF of two photos, taken 109 years apart: "Has climate really changed in southern Chile since Swedish botanist Carl Skottsberg came to visit in 1908?"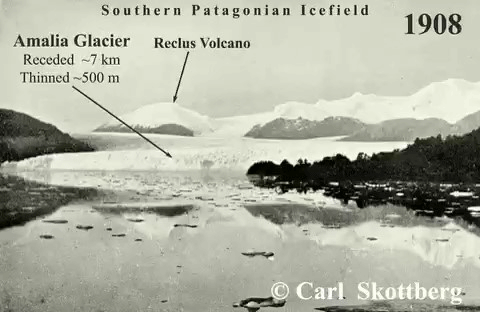 (Click on image to view animation/comparison in new tab. © Carl Skottsberg, 1908 and © Camilo Rada, 2017)
First Excursion to Reclus
In April 2008, Camilo Rada, a geophysicist, and Natalia Martinez, a mountain guide, spent a fortnight with a tent at the foot of Reclus volcano. Their program was First Ascent to the summit, measure its height (1425 m), take rock samples and in general find out what they can about the volcano. They did find the summit – on their very last day! The weather had been so horrible all the time that they did not get a good view at and around the volcano, let alone dare an earlier move to the summit in the gray-white nothingness. They were also the explorers who named the small western cone "Mimi" – I don't care what the rest of the world thinks of it, but I find the name great and I use it! 😉 You can read the diary entries of the two hardy young people and see their photos HERE.
An Earthquake Swarm
In August 2012, in the Argentinian town of El Calafate, an earthquake swarm had kept the inhabitants in suspense for a month. To avoid panic and make information available, a Municipal Emergency Operating Center was formed. First tasks involved the explanation of the main theories about the possible cause of the tremors: 1. the settling of tectonic plates due to the removal of glaciers, or, 2. the start of activity in the Reclus volcano (located 125 km to the SW). Against the first hypothesis stood the fact that no seismic activity at all was registered, for example, in the Chilean town of Natales. For the second stood the general location of the quakes: around the Reclus volcano!
The swarm eventually waned and nothing had happened, though the interest in volcán Reclus had been roused. For some it was the first they had heard about an active volcano in their vicinity.
Ominous Clouds?
Interesting, an article in the El Pinguino from February 2017: Somebody had noticed something about the Reclus volcano, and in no time the news of an alleged volcanic plume went viral on social networks. Sernageomin experts quickly and sternly stated that within their scientific networks, including the NASA satellite data, absolutely no volcanic activity was detected lately. Eventually, officials even threatened legal action against those spreading unsolicited news.
To find some cloudless images, I had earlier been leafing through about a hundred Seninel-2 images, including those of 2017. One couldn't fail to notice the repeated occurrences of dark material spread onto the previously pristine Amalia glacier adjacent to the north. From expedition reports we know that the surface of Reclus consists of poorly consolidated volcanic material. As the dark spread over the glacier seems to originate from river pathways down the northern slope, it stands to reason that lahars, perhaps land slides or rockfalls are a common occurrence.
All of those are able to create "clouds" of dust or mud spray as they thunder down the slope. Even though the hassle mentioned above was probably about a SO2 reading off satellite data, which gas would be almost invisible in nature, there is a real chance to encounter clouds that were caused by movements down the slopes of the volcano. Which of course again has not necessarily to do with seismic/volcanic activity.
WILL VOLCÁN RECLUS ERUPT AGAIN?
Unlike with volcanoes on the dryer parts of the continents, establishing an eruption history in this rough southern climate is a huge challenge for scientists. Not only are there very few people in those remote parts to observe and document possible small eruptions. Also, smaller deposits of tephra get blown away by the storms, covered by snow, washed off by rains and rivers, carried off and turned over by glaciers, mixed up by landslides and mudflows, and – probably deposited elsewhere after all. Consequently, it is only the larger eruptions that get identified, either from great impact in the immediate vicinity or from deposit sources farther away. Not knowing how often and how big/small the volcano erupted also prevents any forecasting if or when it might happen again.
Generally, it is thought that magma production in conditions of slow subduction is much less than in areas with fast subduction – as, for example further north, where the Nazca plate subducts at 6-7 cm/year. This could mean that the volcanoes in the AVZ erupt far less frequently. But again, this needs more research and perhaps new approaches to modern monitoring techniques.
~~~
Disclaimer: I am not a scientist, all information in this (and any of my other posts) is gleaned from the www and/or from books I have read, so hopefully from people who do get things right! 🙂 If you find something not quite right, or if you can add some more interesting stuff, please leave a comment.
Enjoy! – GRANYIA
SOURCES & FURTHER READING
– GVP, Reclus
– Evidence for distal transport of reworked Andean tephra: Extending the cryptotephra framework from the Austral volcanic zone (2019, PDF)
– Refining the Late Quaternary tephrochronology for southern South America using the Laguna Potrok Aike sedimentary record (2019)
– Hydrological variability in southeastern Patagonia and explosive volcanic activity […]from lake sediments of Laguna Potrok Aike (2008)
– Glacial-Holocene tephra from southern Patagonia and Tierra del Fuego[…] (2018, paywalled)
– Volcanic glass properties from 1459 C.E. volcanic event in South Pole ice core dismiss Kuwae caldera as a potential source (2019)
– El misterio del volcán Reclus (Expedition 2013)
– Expedición Volcán Reclus 2008
– Neotectonics and seismicity in southern Patagonia (2015, paywalled)
– Holocene tephrochronology record of large explosive eruptions[…] Patagonian Andes (2007, paywalled)
– El Pinguino article